Whenever you make any changes to the products within your POS, you will need to sync these changes to your Deliverect account. This allows you to update any existing products, add or remove products, and prevent orders from failing.
Most POS systems allow you to sync in products from Deliverect. Some POS require you to pre-authorize the changes in your POS, while others require you to push-sync the products from your POS. Please enquire with your Deliverect account manager to find out which action works for you.
If using Deliverect's Sync Products feature, head to the Locations page 1, find the location you want to sync new products from, and click on the Sync Products button 2.
If successful, you will see a green update box appear at the top right.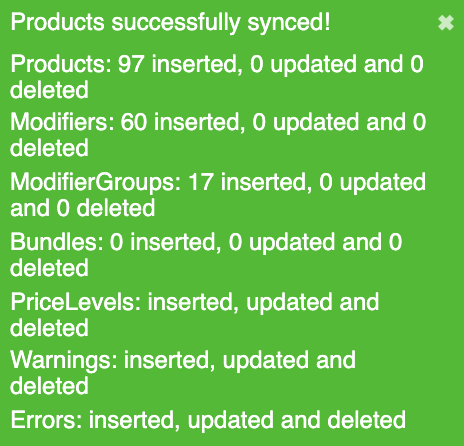 Any added, modified, or deleted products from within your POS will be updated in Deliverect every time you click on the Sync Products button.
To view these products, go to the Products page accessible via the left-hand sidebar. Here you can see all products associated with the POS set up in the location.
We can now use these products to create or amend your menus. Click
here
to learn how to create your first menu.
Please note: once you make any changes to your menu, or if your sync was simply to update existing products, you must still re-publish the menu to your online platforms to reflect those changes. Performing a sync will not affect your online platforms. Using the Sync Products feature should always be followed by a re-publication of your menu to all of your online platforms. Click here to learn how to publish your menu online.
Next steps:
• Create a menu.
• Publish your menu.
• How to set the opening hours for your locations.